Dear Student:
 
Welcome to the University of Houston-Downtown.
Whether you're a First Time in College Student or transferring from another institution, I am pleased that you have selected UHD as the next stop on your academic journey.
For more t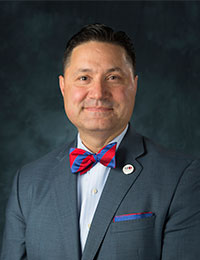 han 40 years, UHD has been an integral part of the city's educational landscape. Our institution produces leaders in business, criminal justice, education, humanities, sciences and technology, social work and a range of other disciplines. And with the addition of new degree programs, we remain relevant and ready to produce skilled professionals for an evolving workforce.
Our academic programs are led by award-winning scholars and educators who are committed to your success. Likewise, the University's staff members are on hand to answer questions and provide guidance as you navigate our institution.
Aside from its people and programs, UHD provides students with many resources aimed at supporting your education. These include the Writing and Reading Center, Supplemental Instruction Program, Career Development Center and Tutoring resources. I encourage you to utilize these and other services designed to ensure your success at UHD.
On-campus learning extends beyond the classroom at UHD. Our campus hosts town hall discussions on important topics and features lectures from noted scholars and civic leaders. These events are an extension of our academic mission and provide engaged learning for faculty, staff members, students, and members of our community.
Earning a degree requires focus and commitment. In academic and business circles, this sense of resolve is referred to as grit. As a student, you will further develop this sense of grit and ultimately, Finish UHD Strong.
Thank you for choosing UHD, and good luck on your academic endeavors.
Sincerely,
Dr. Juan Sánchez Muñoz
UHD President