Dear Student:
 
I am pleased that you selected the University of Houston-Downtown (UHD) as the next stage of your academic journey. You will discover that our University is rich with quality programs, award-winning faculty and devoted staff members. It also attracts talented students like yourself who are here to learn, and grow personally and professionally.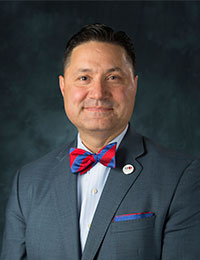 This institution has been part of the city's educational landscape for more than 40 years and is continuing to expand its presence both downtown and in the Houston area. UHD is the second largest university in the city and among the most diverse higher education institutions in the state.
Although UHD is growing, students still benefit from small classes and access to their professors. Additionally, the University hosts a range of academic and professional development resources designed to help them succeed. These include the Writing and Reading Center, Supplemental Instruction Program, Career Development Center and tutoring resources. I encourage you to utilize these and other services designed for students like yourself in mind.
UHD is centrally located in Houston's business district - not far from the corporate headquarters of Fortune 500 companies and just a train ride from the Texas Medical Center. It's easily accessible for professionals, transfers and first-time-in-college students riding METRO light rail. Our academic reach also extends beyond downtown thanks to UHD Northwest, UHD at Lone Star College CyFair and UHD at Lone Star College Kingwood.
Whether you're in downtown or another area of the city, it's not uncommon to meet alumni whose road to success began at UHD. There also is a good chance you may connect with these alums during University events as many former students return to our institution to share their stories with current Gators.
Earning a degree requires dedication and hard work. It also involves a commitment from an institution's administrative and academic leadership to support students during this pivotal time in their lives. Rest assured, I place student success among my highest priorities and am committed to seeing all of our Gators finish UHD strong.
Sincerely,
Dr. Juan Sánchez Muñoz
UHD President